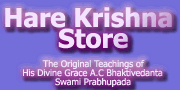 Original 1972
Bhagavad-gita
www.AsItIs.com

---




---
Art Gallery

---
More Information:

Purchase the Book

The Author
Krishna
Reviews


ISKCON is Changing Prabhupada's Books!
---
---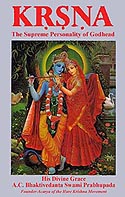 Original Krsna Book
NowOnline
---
....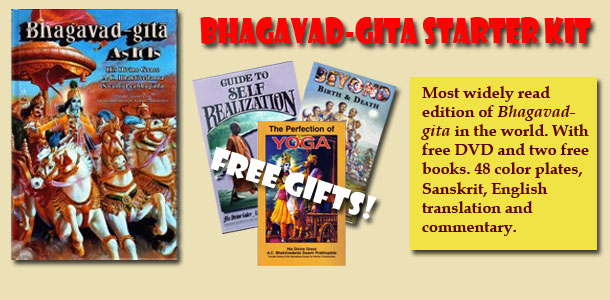 Click Here for Your Bhagavad Gita Starter Kit!
Chapter 10. The Opulence of the Absolute
TEXT 23
rudranam sankaras casmi
vitteso yaksa-raksasam
vasunam pavakas casmi
meruh sikharinam aham
SYNONYMS

rudranam--of all the Rudras; sankarah--Lord Siva; ca--also; asmi--I am; vitta-isah--the lord of the treasury of the demigods; yaksa-raksasam--of the Yaksas and Raksasas; vasunam--of the Vasus; pavakah--fire; ca--also; asmi--I am; meruh--Meru; sikharinam--of all mountains; aham--I am.

TRANSLATION

Of all the Rudras I am Lord Siva; of the Yaksas and Raksasas I am the Lord of wealth [Kuvera]; of the Vasus I am fire [Agni], and of mountains I am Meru.
PURPORT

There are eleven Rudras, of whom Sankara, Lord Siva, is predominant. He is the incarnation of the Supreme Lord in charge of the modes of ignorance in the universe. Among the demigods Kuvera is the chief treasurer, and he is a representation of the Supreme Lord. Meru is a mountain famed for its rich natural resources.